Community and Company Blend to Enjoy Ribbon Cutting Ceremony
Fayetteville, AR, August 1, 2016– On a beautiful Friday in mid-July, local company Bio Tech Pharmacal opened their campus to members of the community for an inaugural celebration held in honor of a newly opened cGMP manufacturing facility.
"Congrats to Bio Tech on the expansion! I learned so much more about your company through attending the ribbon cutting. How exciting to be a part of the growth you are experiencing!"- Shelle Summers, Rogers/Lowell Area Chamber of Commerce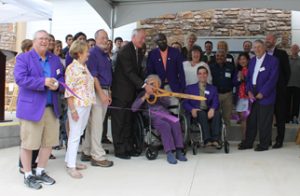 Unseasonably cool weather, gorgeous catering menu and a scheduled keynote address given by Arkansas state Governor, Asa Hutchinson, drew in many attendees for the ceremony. Chuck Stutte, a member of Bio Tech's administrative team, elicited laughs from the audience as the event's MC. Bio Tech owner and president, Dale Benedict, enlightened the crowd with a truly heartfelt dialogue involving company background and future expansion plans. Closing the event with flair, a hearty round of applause was extended to Bio Tech's team members and let's not forget the ceremonious cutting of the ribbon and a post-event tour of the cGMP manufacturing facility.
"The event was outstanding. Congratulations!"- Mick Maggi, Maggi Consulting LLC/National Hispanic Heritage Foundation
In true Bio Tech fashion, the ribbon cutting ceremony was informative, engaging and offered a quality perspective of what manufacturing superior nutritional products looks like (as Bio Tech has done since 1984). Bio Tech extends their thanks to all of the attendees and partners who made not only this event possible, but who help make doing business in Northwest Arkansas (nationally and internationally) possible and pleasurable.
---
If you would like more information about this topic, please contact Rebekah Bennett / Lora Daniel at 479-443-9148 or email at bekah@bio-tech-pharm.com / lora@bio-tech-pharm.com.