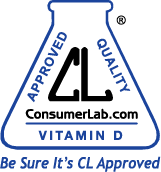 Bio-Tech Pharmacal announced that its D3-50™ (Vitamin D3-50,000 IU) was evaluated and approved by ConsumerLab.com, LLC. ConsumerLab.com is a leading provider of independent product test results and information to help consumers and healthcare professionals identify the best quality health and nutrition products. It publishes results of its tests in comprehensive reports at www.consumerlab.com.
Bio-Tech™ D3-50™ was rigorously tested by ConsumerLab.com for assurance of containing a minimum of 100% (and not more than 165%) of its labeled amount of vitamin D as well as meet any specific claims for vitamin D3. The review can be found on the company website at www.consumerlab.com.
"We are thrilled to see the results from ConsumerLab.com and receive their distinguished seal of approval; however, we are not surprised", said Dale Benedict, President/CEO/Owner of Bio-Tech Pharmacal. These results confirm our extensive in-house, as well as third party, testing. Bio-Tech Pharmacal is committed to only the highest quality manufacturing and analytical testing systems and practices. We are happy to receive independent confirmation of the quality and purity of Bio-Tech™ D3-50™ from ConsumerLab.com.
More about Bio-Tech Pharmacal: Bio-Tech Pharmacal, Inc., established in 1984, is a cGMP registered / FDA registered nutraceutical (dietary supplements) manufacturer specializing in innovative high quality hypo-allergenic preventative healthcare products, shipped to physicians, clinics, hospitals, pharmacies, etc. worldwide.
Bio-Tech Pharmacal has over 100 research affiliations including Mayo Clinic, Cleveland Clinic, Emory, Rutgers, Harvard, and many more.
Bio-Tech Pharmacal has introduced many innovative products, including D3-50™ (D3-50,000 IU), available in a water soluble delivery form. Some products are Kosher/Halal certified.
Company contact info: Bio-Tech Pharmacal, Inc. Phone: 800-345-1199 (local: 479-443-9148) Email: customerservice@bio-tech-pharm.com Website: blog.biotechpharmacal.com